Terms & Conditions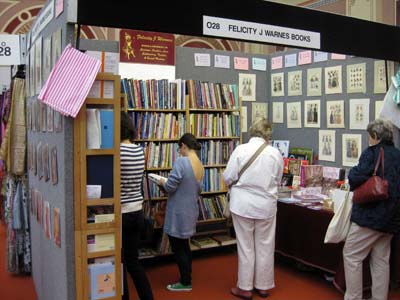 FELICITY J. WARNES
The Old Bookshop
36 Gordon Road
Enfield , Middlesex
ENGLAND EN2 0PZ
Tel: +44 (0) 20 8366 0722
How to order books online
Use the Books Catalogue to search for books by category, or by entering your own search terms in the box. Add the items that you would like into your shopping cart by pressing the "Add To Cart" button.
Once you have all the items you would like in your shopping cart, then you can check out by selecting your region from the dropdown box on the cart page, and clicking the button.
UK Residents: You will be prompted to pay immediately through Paypal, or you can pay through email. If you pay via Paypal, this is immediate and we will ship your items as soon as we have your payment. If you decide to pay through email this is a longer process. We recommend you pay us via Paypal as it ensures security for all parties.
Non-UK Residents: You will need to fill out your details in the form so that we can process your order as appropriate. We need to calculate postage for each item you require, and as such it might take a few days. We will invoice you either through Paypal or email - whichever you specify in the dropdown box.
Ways you can pay
We accept the following Cards: - Mastercard, Maestro, Visa, Solo, Delta, and Visa Electron.






We are also now accepting payments through PayPal: -

Postage Details
UK Residents
: Items are sent by unregistered inland post, and will be despatched as soon as we have received your payment.
Post and packing is extra, as below:
£4.75
for 1 book
£6.50
for 2 books
£7.50
for 3 or more books
Non-UK Residents: Items are sent by Airmail, and will be despatched as soon as we have received your payment.
Post and packing is extra, and is calculated per order. As such we cannot estimate the postage prices. The postage will be explicitly included on the invoice that we send you.
Where necessary, exchange charges may be added, but this is not usually the case.
Please note that additional taxes/duties may be applied on delivery. We cannot estimate or control these, and we are not responsible for any extra charges incurred as a result.
General Terms and Conditions
All books in the Books Catalogue are for firm sale subject to availability.
Prices, postage and terms may be changed without prior notice.

Book Conditions:
- All books are Hard Cover unless otherwise stated.
- Dimensions and sizes are approximate.
- Book descriptions and conditions are as sent. We are not responsible for any damage incurred during posting.
- Terms and Conditions for the Research Centre can be obtained on request.